Introducing Personalized Service Solutions with EDGEcelerate
Health plans today can face challenges managing their day-to-day operations because of staffing challenges, the regulatory environment, and the need to reduce administrative costs. With the Core Administrative Processing System (CAPS) system at the heart of this dynamic and challenging world, it needs to run smoothly to facilitate business operations.
Top 4 Health Plan Challenges
Staffing
80% of health plans are having self-described staffing problems, including:
Overworked staff & high turnover
Extended replacement time
Over-reliance on senior staff
Employee burnout
Regulatory Environment
Managing and adhering to regulatory requirements & changes is a constant challenge. Health plans are consistently faced with:
Reaction time to mandated changes
Knowing what comes next
Administrative Costs
In a 2022 survey of 300+ health plan leaders, when survey respondents were asked to report the top three challenges that their organizations face today, managing costs and driving operational efficiencies were top of the list – jumping dramatically from the prior year's fourth and fifth positions.
Consistent CAPS Quality of Service
Many factors can impact CAPS quality of service, including:
Manual processes
Issues/defects impacting operations
Maintaining high auto-adjudication rates
Reducing operational PMPM costs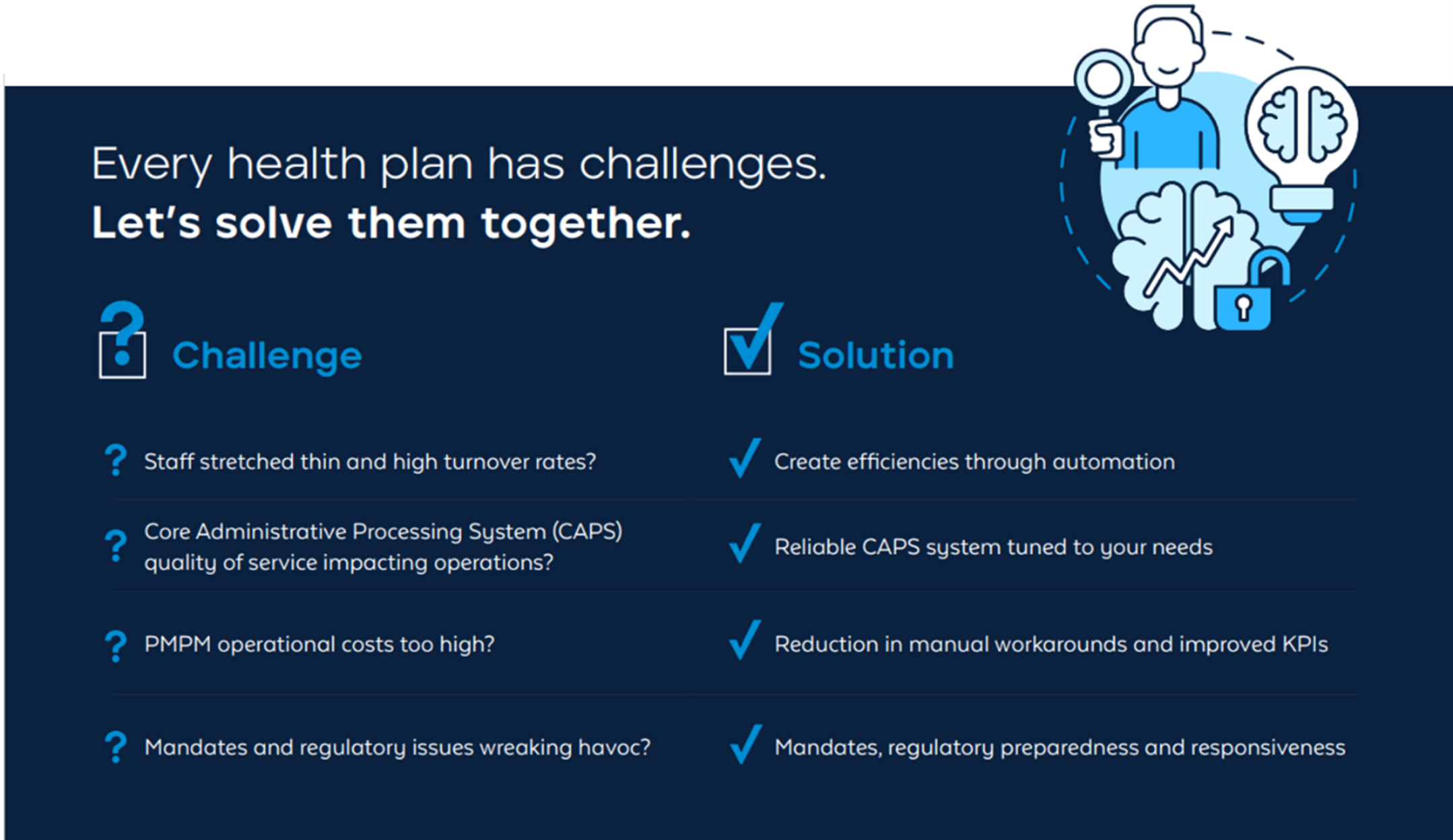 Introducing EDGEcelerate: A Path to Minimize the Challenges
Health plans need flexibility and personalized solutions as they grow and respond to market pressures. HealthEdge's new tiered services solution, EDGEcelerate, can offer the targeted, personalized solutions health plans need to tackle these multi-dimensional challenges.
HealthEdge EDGEcelerate provides customized, full life cycle support of the CAPS system HealthRules® Payer. With this, health plans can:
Create efficiencies through automation
Experience a reliable CAPS system tuned to your needs
Reduce manual work arounds
Improve KPIs
React & respond faster to regulatory mandates
Every health plan has challenges. Let's solve them together. Learn more about HealthEdge's personalized service solutions with EDGEcelerate.