"How much should a healthcare provider be reimbursed for the services they provided our member?"
While a seemingly straightforward question, the answer, unfortunately, continues to elude payers. And mistakes made while trying to answer this question contribute over $200 billion to the annual cost of healthcare in the United States.
I have spent the past 8 years in the payment integrity industry, working to address this question in some way, shape or form. But it wasn't until I joined HealthEdge that I saw how radically different things could be.
With Source, our answer to this question was to build a solution from the ground up with the simple mission to enable customers to pay claims accurately, quickly, and comprehensively – however it is our vision and approach that will redefine payment integrity.
The payment integrity market is chock-full of vendors operating the same way they were a decade ago. They are using an outdated approach to solve for increasingly complex problems that limit visibility for the healthcare payer and hamstrings their ability to meet the increasing demands of their members and transparency in the industry. This "black box" approach enforces competition between the payment integrity vendor and the payer—where the vendor continuously profits off mistakes without addressing root cause issues for the payer.
But what if instead of competing for profits and benefiting from mistakes—which ultimately impact members, we partnered with payers to truly understand their pain points—and helped solve them?
At Source, we do not want to be just another vendor in a Payor's complex web of payment systems. We have built an end-to-end payment and editing platform with the vision of deep partnership and moving the payment integrity industry from a black box to an open book. We do not wish to compete with a Payor and profit off mistakes, but rather partner to truly understand pain points and solve them at the time of adjudication.
We're calling this the "Open Book" approach, where we provide the technology for payers to gain control over their IT ecosystems, address root cause issues, and ultimately cut costs that contribute to member savings.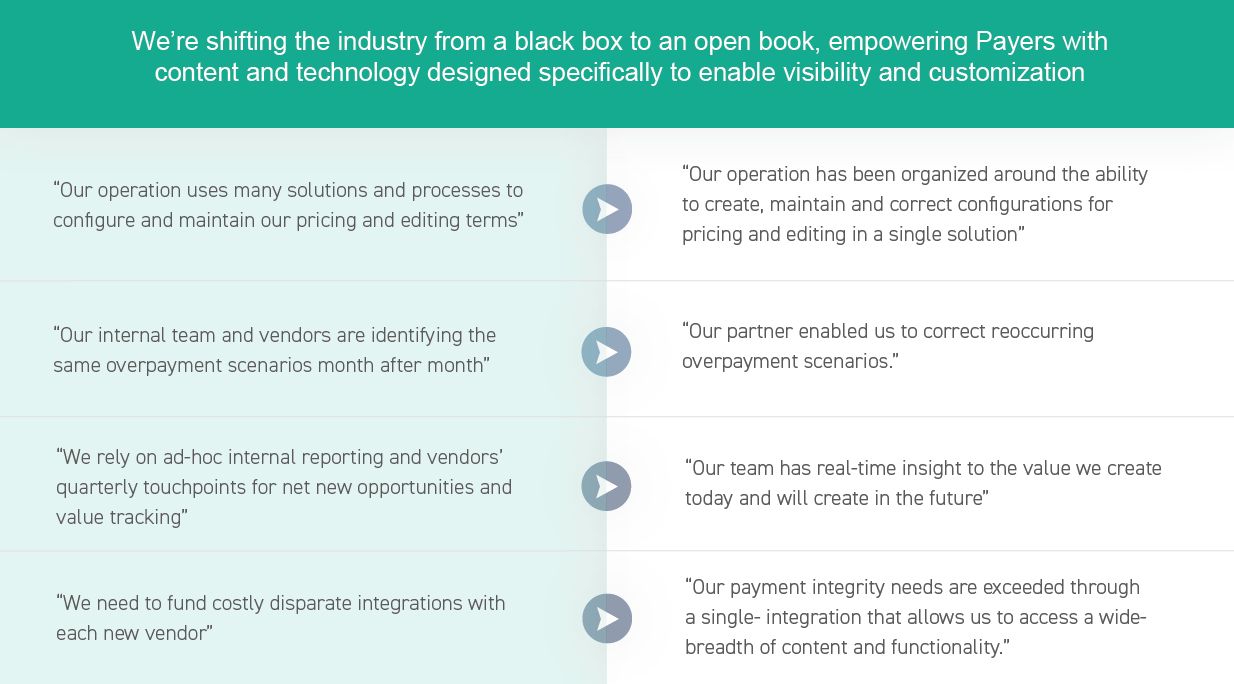 With Source, you not only have complete control and visibility over your payment lifecycle in one place, but a dedicated partner who wants to help solve your largest and most complex payment challenges. We want to eliminate administrative waste and provider abrasion so that the Payor can focus on what matters most—their members.
We're on a mission to challenge the payment integrity industry to do better by empowering payers with the technology and partnership they need to make healthcare better for everyone.
Learn more about Source payment integrity here.