In today's world, health plans are challenged with improving care, reducing costs, and remaining compliant with ever-changing regulations. This is especially true when it comes to providing care management and population health management for government lines of business and dual eligible populations. While care management programs are highly recognized as valuable, not all programs and platforms are the same – and keeping compliant with federal and state-specific regulations further exacerbates the challenges that come with adoption and effectiveness.
A Growing and Complex Market
To better understand the challenges of implementing an effective care management program for government or dual-eligible populations, it is first important to understand the growth and complexities of these groups. 'Dual-eligibles' are persons who qualify for both Medicare and Medicaid coverage. Medicare covers their acute care services, while Medicaid covers Medicare premiums and cost sharing, and—for those below certain income and asset thresholds—long-term care services. Dual-eligibles are typically a particularly vulnerable subgroup of Medicare beneficiaries. By virtue of their eligibility for Medicaid coverage, they tend to be poor and report lower health status than other beneficiaries. Dual-Eligible Special Needs Plans (D-SNP) are a special kind of Medicare Advantage Plan for these dual-eligible individuals who qualify for both Medicare and Medicaid and Part D coverage.
Enrollment in D-SNPs increased from 3.8 million beneficiaries in 2021 to 4.6 million beneficiaries in 2022 (20% increase) and accounted for about 16% of total Medicare Advantage enrollment in 2022, up from 11% in 2011. In 2022, the number of D-SNPs offered grew by more than 16% from the previous year, double the growth of general enrollment plans during the same period.
Health plans serving D-SNP members need a holistic platform for end-to-end care management and population health that is effective at simultaneously reducing overall costs and improving care, while ensuring the plan is compliant with state and federal regulations.
A Complex Population: Dually Eligible Individuals Need Care Management
People who qualify for D-SNPs are the most vulnerable and high-risk population with the most complex health needs. Compared to individuals enrolled in Medicare only, dual eligible beneficiaries are:
More likely to be under the age of 65
More likely to live in rural areas
Four times as likely to have high food insecurity needs
Three times as likely to speak a language other than English at home
Twice as likely to have depression
Nearly three times as likely to have cognitive impairment
Care Management Works
The complexity of the dual-eligible experience, from a medical and social perspective, coupled with the fragmentation created by the Medicare and Medicaid systems, often results in an uncoordinated experience with misaligned incentives.
These individual and system level complexities contribute to high levels of spending. While dual-eligible beneficiaries represent just 20% of the Medicare population, they make up 34% of Medicare spending. Similarly, they make up 15% of the Medicaid population but account for nearly 1/3 of the spending.
This opens the door for implementing a care management program that works. Not only does care management lower costs and improve health outcomes, but those plans that execute it well set themselves apart from the competition with improved Star ratings.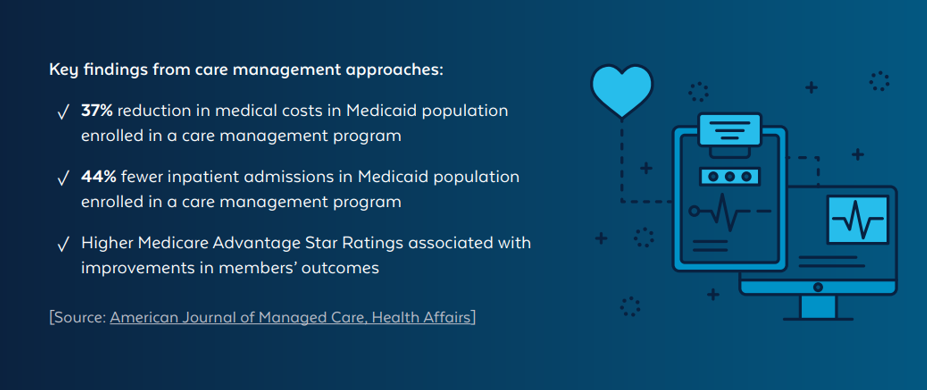 Elderplan & HealthEdge's Care Management Platform GuidingCare
GuidingCare is a leading next-generation care management solution suite that enables health plans to provide all members, from the healthiest Medicare Advantage member to the most medically complex dual-eligible beneficiary, with the most effective care management services. Plans that rely on GuidingCare can maximize coordination and member engagement for improved Star ratings, better health outcomes, and increased member satisfaction.
Elderplan, the only 5-star Medicaid Advantage Plus (MAP) plan in New York State, uses GuidingCare and shared the following:
"Elderplan specializes in intense, complex care management of our membership, and [GuidingCare] supports these care management goals as well as our compliance goals, as far as STARS ratings, HEDIS scores, and other initiatives." – Craig Azoff, Senior Vice President, Health Plan Information Services, Elderplan
Read the full Elderplan case study here.