HealthRules Payer Awarded 'Best in KLAS' for Second Consecutive Year
HealthEdge's Core Administrative Processing Platform Earns #1 Ranking
BURLINGTON, Mass., Feb. 21, 2023 — Next-generation healthcare SaaS company HealthEdge® announced its flagship solution, HealthRules® Payer, earned Best in KLAS recognition for the second year in a row. The 2023 KLAS Research designation reflects the application's #1 ranking among all fully rated payer claims and administration platforms. KLAS rankings are based on the opinions of healthcare professionals in more than 4,500 organizations.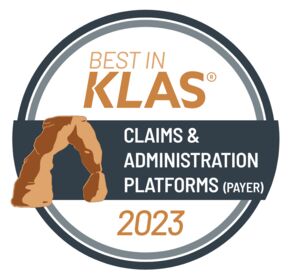 Powering plans across all lines of business, HealthRules Payer is solving some of today's biggest payer challenges. An advanced core administrative processing solution (CAPS) with capabilities far beyond legacy systems of the past, HealthRules Payer provides a transformational, digital foundation for health plans of all types and sizes. The next-gen application gives plans the agility, flexibility and insights to grow their business, embrace change, and swiftly address new regulations and market opportunities. In addition, the user-friendly platform reduces manual processing, empowering payers to improve operational efficiency through automation. The platform can scale quickly and help payers drive down costs.
"We're honored by the growing number of health plans that trust HealthRules Payer as the foundation for their digital transformation journey," said Sagnik Bhattacharya, executive vice president and general manager of HealthRules Payer. "We look forward to further accelerating health plan digital automation, flexibility and agility as today's healthcare economy demands."
Recent evaluations collected and anonymized by KLAS give a glimpse into what users are saying about HealthRules Payer. "HealthRules Payer is a great product," said the chief operating officer of a health plan. "The system is very configurable, and we experience a high automatic adjudication rate for our claims." HealthRules Payer helps customers achieve 90-97% auto-adjudication rates with financial accuracy up to 99% and higher. In another KLAS review, an executive leader applauded the SaaS company's expanded support, stating, "HealthEdge is applying quite a bit of focus on how to help their customers get the most out of their technology."
"Our company vision is to innovate a world where healthcare can focus on people," highlights Steve Krupa, chief executive officer at HealthEdge. "We're thrilled to receive the Best in KLAS award for the second year in a row, and more importantly, help our payer customers write the next chapter of their story."
HealthEdge's Source Shines Bright in KLAS 'Emerging Solutions Spotlight'
Alongside the Best in KLAS title honoring HealthRules Payer, KLAS Research surfaced high scores for prospective payment integrity platform Source, an integral part of the HealthEdge ecosystem. In a 2023 Emerging Solutions Spotlight examining product performance, the data-driven healthcare research and insights company details Source's strong customer satisfaction scores, with A grades for all key performance indicators and success in achieving customers' expectations. The report references high points called out by customers, including the tool's biweekly updates around pricing guidelines and real-time claims processing that gets prices right on the first pass. Payers in the report credit Source for increased savings, reduced agreement volumes and workflow automation. KLAS Research highlights customer comments commending the company for listening to customer needs, providing frequent updates to reflect changes in fee schedules, and enabling visibility into Medicare rates and pricing.
"What sets HealthEdge apart from other vendors is the capability to look up the Medicare rates in the system," said a health plan director. "If we have, for example, a provider that says that we didn't price a claim correctly, we love the way that the audit tool can go in and look at the claim."
"As an interoperable, cloud-based platform built from the ground up, Source enables health plans to identify and fix issues at the root cause," said Ryan Mooney, Source's executive vice president and general manager. "With true transparency and control over their payment integrity operations, healthcare payers can finally unlock the ability to pay claims accurately, quickly and comprehensively the first time."
About HealthEdge
Innovating a world where healthcare can focus on people, HealthEdge® is driving a digital transformation through transaction automation and real-time business and clinical engagement among payers, providers and patients. HealthEdge delivers next-generation SaaS solutions for core administration (HealthRules® Payer), payment integrity (Source), care management (GuidingCare®) and member experience (Wellframe). These best-of-breed applications, offered individually or together in an integrated suite, enable health plans to leverage new business models, reduce costs, improve outcomes and streamline workflows across the healthcare delivery cycle. Follow HealthEdge on Twitter or LinkedIn.
About KLAS
KLAS is a data-driven company on a mission to improve the world's healthcare by enabling provider and payer voices to be heard and counted. Working with thousands of healthcare professionals, KLAS collects insights on software, services and medical equipment to deliver reports, trending data and statistical overviews. KLAS data is accurate, honest and impartial. The research directly reflects the voice of healthcare professionals and acts as a catalyst for improving vendor performance.